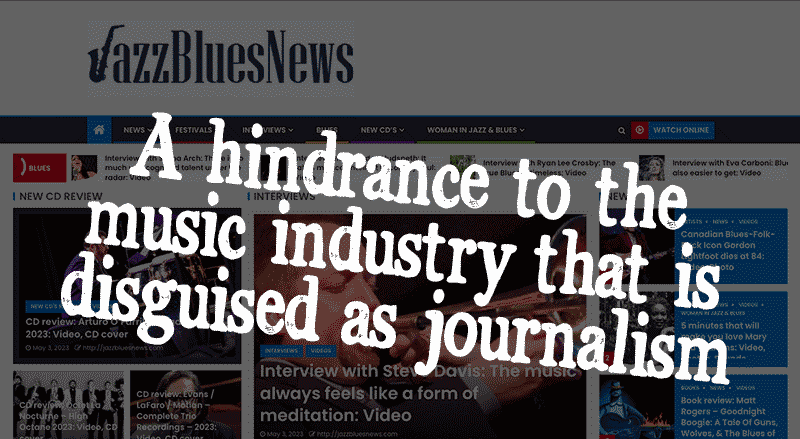 Simon Sargsyan of JazzBluesNews.com scams
As hard as it is in the music world today we do not need people scamming independent musicians out there in the name of journalism. Simon Sargsyan is doing just that with his online "magazine" JazzBluesNews.com. He solicits musicians for a magazine article. Then after the article questions are answered he comes in heavy with a pitch to buy a "lifelong" website ad. If you question anything about the ad or decline he will become unhinged and abusive.
This is textbook extortion
Absolutely disgusting what this man does, if you don't pay him to review your record, he put you on his "bad musician" list. This is text book extortion, if I could review no stars I would. Do not communicate with this person under any circumstances. Jassbluesnews should be absolutely ashamed.
A hindrance to the music industry this is disguised as journalism
So this Simon guy. Wow. What a sad human being. Vile. Seems the same thing has happened to others here. Pay him or he is like an email version of the Terminator. The Simonator.
This guy is scamming musicians
This guy is scamming musicians. he asks you to do an interview and once you've answered his questionnaire (that is the same for everyone) he asks you if you'd like to pay for an interview. If you don't pay his 150 euros for the interview he says all kinds of awful stuff about you. Extortionist. Beware.
Simon is a bully as others have noted.….
Simon is a bully as others have noted here. Plus, his interview questions are not thought out or personalized to the artist and are the same for every interview. I took a little longer answering his nonsense questions than i guess he would have liked, and when i didn't agree to PAY for an album review, he threatened to post my interview in the "bad musicians" page. I felt like i was being ambushed by this outlet the entire time.
This is an extortion company/scam
I believe the other reviews tell you everything you need to know, but here's the same story again
How this "journalist" (hahah) operates:
He emails you (not the other way around…), requests an interview, then sends you a precomposed list of questions to promote your music through his publication. The questions you will receive have nothing to do with you personally, or your music From the looks of it, they were written out and saved years ago.
He gets increasingly rude when you answer his questions in less than 24 hours.
Then he asks/insists you to pay his fee for the interview to be posted (surprise!)
When/If you decline, he insults you, your music, calls you a liar, whatever, and then posts all his criticisms alongside your interview on his "bad musician" page.
If you receive an email from this company, be prepared to be slandered or pay his fee, those are the only two options.
Total Scam, stay away
Simon Sarg (Simon Sargsyan)
Simon Sarg (Simon Sargsyan, Armenian: Симон Саргсян) is a fake journalist/editor of JazzBluesNews – he plagiarized his "questions" from the Michael Limnios Blues Network. He scrapes "target" musicians from other sites website reviews, and invites them to be "interviewed' by email. His actual intent is to sell them ecommerce links from his "site" ( €120 Euro) to their album sales site. If you refuse his "ad buy" he becomes hostile and threatening. He may still "publish" the interview but will surround it with negative press, for example: "Interview with a bad musician, as if singer, problematic person" and/or "…in contrast to your thoughtless and mindless answers, I would understand the interrelationships and footnotes of the questions, and use them for my career, not make empty comments like you, your intelligence is low."
Nobody should give this man any exposure, information, help or assistance in any way.
BTW: he claims to have attended Berklee College of Music, but judging by his awful misuse and lack of understanding of the English Language, he would not have passed the enrollment.
This is an extortion company/scam
A scammer in all sense, violent in his attitude and despicable. According to a thread, famous page All About Jazz had issues with him due to copyright. This person should be banned from existence!
This Simon guy is a bully to artists
This Simon guy is a bully to artists, he actually threatened to write bad reviews about one of my clients who didn't choose to advertise with him. His gimmick is, he offers to do an interview with the artist, but then insists on them running ads in his publication. Very bullying tactics. Beware!
Terrible site and person
Terrible site and person. Sends email to artists, ask for free interview and then wants money. If person doesnt reply he publishes artist in "bad musicians" list on website and insults them. even famous musicians r there! what a thief, what a scam!
A website where Simon Sarg defames
A website where Simon Sarg defames, slanders, insults many musicians who do not want to collaborate with him,-also through emails- Pages like these should be closed unless the defamatory comments about the musicians were removed, violate the honor of people.
Estimate on how much Simon has scammed off musicians.
Current # of Interviews/Ads